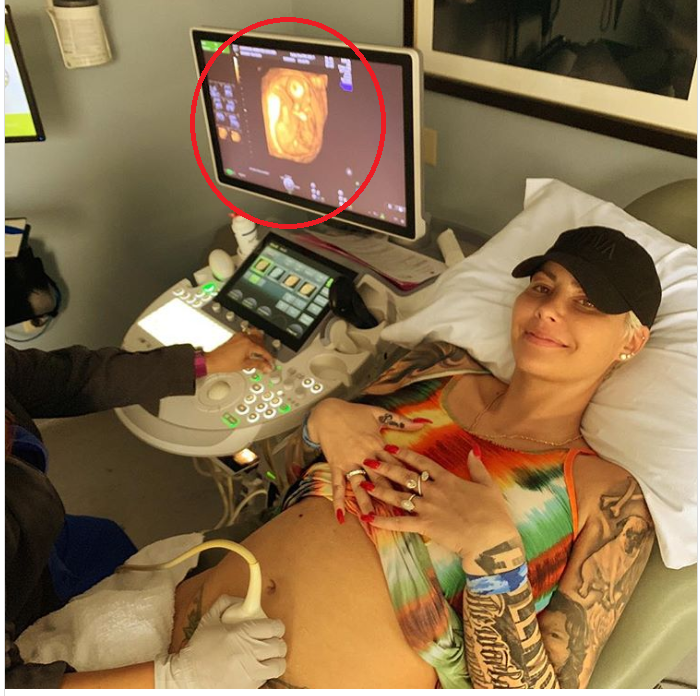 Wiz Khalifa's ex-wife Amber Rose is pregnant with her new boo thang's baby and he so happens to be Def Jam's A&R Vice President! ….. She's out here securing 'bags' …[no shade😅].

On Wednesday, the 35-year-old model announced that she is expecting another little boy with her new boyfriend, Alexander "AE" Edwards.
"@ae4president and I are SUPER excited to announce that we have a Sweet little Baby Boy on the way!" Rose wrote on Instagram, alongside a photo of her getting an ultrasound. "P.S. Sebastian is soooooo Happy to be a big brother!"
AE also shared the happy news via his Instagram account:
"Even when it's dark.. my SON will shine," he wrote alongside the same photo Amber posted. "Thank u baby 4 my greatest gift. sh*t wild! I love you… I can't wait to thug it out w my baby boy. & baby boy, I promise I won't get mad if ur first words r 'where the bitches @?' ?? (no hyper-masculinity)"
Amber and Alex have been dating since September 2018, according to TMZ, and made their first public appearance as a couple the following month at Amber's annual SlutWalk event.
With three (3) too many famous exes on her rapsheet, Rose said in an interview:
"In the past [I have] used the words 'best friend' very loosely," she said while speaking of my exes. "But I can honestly say I feel like this man really is my BEST FRIEND! We talk for hours, he makes me a better person, he listens to me and understands me," she added.
According to GossipOnThis: Rose concluded her interview by saying:
"He also came into my life at a time where I've had enough of the narcissistic, cheating and abuse I've endured over the years from my previous relationships… Me always apologizing for things I had no business apologizing for, being gaslighted, manipulated and mentally abused."
Lastly, she added: "I felt so damaged when I met him and pushed him away in the beginning, he has talked me through everything while simultaneously loving me and working with me so I could overcome my fear of loving someone in the most healthiest way again. So @ae4president Thank you for all of ur love and support baby. I love you so much."
And while this is Amber's first child with AE, she also shares custody of her 6-year-old son, Sebastian, with ex-husband Wiz.
Congrats to Amber and AE on their new bundle of joy!